Say Good-bye to Main Line Clogs with these Professional Tips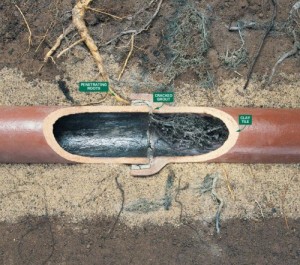 A main line clog can damage your plumbing system quickly resulting in expensive repair or replacement services. Many homeowners don't consider the implications of flushing the wrong items or planting landscaping too close to water or sewer lines. Here are some professional tips from your favorite Brea plumber to keep main line clogs from forming into expensive problems.
Consider the Benefits of Sewer Drain Cleaning
Secondary drains in a home such as those that deliver water to sinks, toilets, showers, and bathtubs are cleaned more often because they tend to show visible signs of problems sooner than main lines that run under a home or in its yard. Homeowners may have had hydro jet drain cleaning to remove small clogs in secondary plumbing lines, but often don't think about hiring plumbers to perform sewer drain cleaning.
Annual clearing of a sewer line offers the following benefits:
Fewer main line clogs
Dislodges tree roots that may have begun to grow into the pipe
Keeps raw sewage from flooding the yard or inside the home
Substantially cheaper than sewer pipe replacement or repair
Calling a local Brea drain cleaning plumber to inspect and clean sewer lines is one of the smartest decisions a homeowner can make.
Think Twice Before You Flush
Main line clogs often form because of debris piling up in the piping. It doesn't take long for clogs to develop in this line because it's not large in diameter. All it takes it flushing too much of the wrong thing within a short period for the line to bulge and crack. At My Brea Plumber Hero, we tell homeowners to stay away from flushing anything other than toilet paper. Practicing mindful flushing will keep more money in your pocket and prevent expensive plumbing repairs.
Call a Plumber to Clear a Main Line Clog in Brea, CA, Today!
You don't have to live with an inefficient plumbing system. Call My Brea Plumber Hero for around-the-clock drain cleaning service to clear a main line clog or other drain and sewer problems. Our services are 100% guaranteed and always completed by licensed and insured plumbers near you.